Baia Pataraia
Executive Director
Baia is Sapari Executive Director. She represents Sapari with various organizations, is a Board Member and at the same time she holds the position of Legal Supervisor – supervises strategic legal proceedings with internal and international tribunals.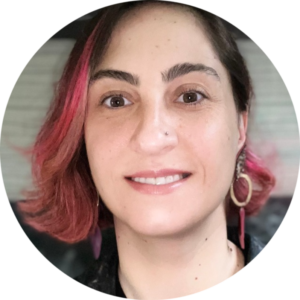 Natia Gvritishvili
Deputy Executive Director
Natia is Sapari Deputy Executive Director and Board Member. She provides administrative and financial management of the projects. She supervises performance of other employees and their compliance with the strategic development goals of the organization.
Giorgi Urchukhishvili
Deputy Executive Director, Researcher
Giorgi is gender researcher and Board Member. His responsibilities include conducting surveys for Sapari, task of which surveys is to collect and analyze data on women and challenges they face.

Tamar Lukava
Lawyer, Lawyer Coordinator
Main direction of Tamar's activities is sexual offence. Tamar is a lawyer with general specialization, however, she has additional specializations in juvenile justice and children's rights.

Tsira Jgerenaia
Lawyer
Tsira's responsibilities include following topics: gender and domestic violence against women, gender-based violence, fighting against discriminatory treatment, sexual harassment case proceedings, etc.

Ekaterine Muzashvili
Lawyer of Strategic Legal Proceedings
Ekaterine works with cases deemed strategic for the organization, prepares relevant legal documents and submits them to international agencies – UN Women and European Court of Human Rights.

Nino Andriashvili
Lawyer
Nino works with criminal, civil and administrative cases, Nino provides legal aid for women and children, who are victims of not only physical but also psychological and/or economic violence.

Neli Kareli
Lawyer
Neli works with the beneficiaries of the organization in the direction of both criminal and administrative law – provides legal advice and represents their interests in courts of various instances. Her additional profiles are juvenile justice and children's rights.

Nona Aslanishvili
Lawyer in Kvemo Kartli Region
Nona provides legal aid for women who victims of different forms of violence. She also works with their cases as necessary.

Mari Zurabilishvili
Lawyer in Kakheti Region
Mari provides legal advice for local women and represents their interests with law enforcement institutions as necessary.

Ketevan Beridze
Social Worker
After primary communication with beneficiaries, Ketevan decides on what kind of support can the organization offer them.

Tamta Kakhaberidze
Communications Manager
Tamta is responsible for dissemination of relevant information about the organization and its performance with corresponding targeting. She also speaks to media, partner organizations and state authorities on behalf of Sapari.

Nini Sparsiashvili
Social Media Manager
Nini manages Sapari's digital channels and works on the content of materials and campaigns for these channels.

Marika Morchiladze
Graphic Designer
Marika provides visual design for any publications, digital and printed materials for Sapari.

Tamar Nadiradze
Resource Mobilization Officer
Tamar helps the organization to search for necessary resources. She works on project ideas and announcements and closely cooperates with donor organizations.

Gvantsa Goderdzishvili
Projects Coordinator
Taking into consideration the priorities of the organization, Gvantsa plans and ensures timely and effective implementation of our projects.

Shalala Amirjanova
Projects Coordinator
Shalala Amirjanova is a project coordinator. She has been cooperating with Sapari since 2019. At the beginning she was a journalist of Panjara Platform. Now, she manages projects supporting ethnic minorities and leads the work of Panjara and Gandzi.

Tozu Gulmamedli
Panjara Azeri-Language Journalist
Tozu Gulmamedli is an Azeri-language journalist of Panjara. She manages the platform pages in social networks, cooperates with bloggers and together with them takes care of diversity of the materials posted on Panjara page.

Christina Kazaryan
Gandzi Armenian Language Journalist
Christina Kazaryan is an Armenian-language journalist of Gandzi. She manages the platform pages in social networks and takes care of their popularization. Apart from that, together with bloggers she works on the content of the materials posted on Gandzi page.

Tinatin Magrakvelidze
Administrative Assistant
With Tinatin's help, the activities of the staff of the organization are well organized and logistically supported and the atmosphere in the office is always business-friendly.

Christine Mdinaradze
Accountant
Christine ensures that the financial operations necessary for implementations of various projects always comply with the standards of our international partner organizations.